Your Sensational Smile in 3 Easy Steps
GEL

Apply DaVinci all-natural whitening gel to teeth.

Light

LED light accelerates the whitening process.

White!

In 60 minutes or less, teeth are up to 14 shades whiter.

Individual results vary based on starting color, composition of teeth, and nature of staining/discoloration.
Just watch this informative 2-minute video.

Tooth Whitening Maintenance & Prevention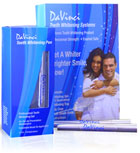 Maintenance is vital to keep your beautiful white smile looking its best. Everything that goes into your mouth will gradually re-stain your teeth. With periodic 30-60 minute whitening treatments and simple home maintenance, you can keep your teeth looking whiter and brighter for years to come. The DaVinci home tray whitening gel (35% carbamide peroxide) and maintenance pen are recommended to help sustain the great results achieved by your whitening sessions.
For Different Occasions
Weddings
Vacations
Special Photos
Graduations
Job Interviews
Proms
Reunions
House Parties
At Any Location
Your Home
Special Events
Your Office
Salons/Spas
Getting married?


Check out our "White Wedding" prices and our "Bride-to-Be Gets White For Free" special.
Good for business!


Bring brighter smiles to your employees and clients. Set up an on-site whitening event or purchase Sensational Smiles gift cards.